Helping You Manage Your Railroad Structures
From Inspection through Design, We are Here to Help
SW Bridge Engineers is your full service railroad bridge consultant.
Our beginning is rooted in the practical world of railroad bridge construction. SW Bridge was created to address the need for a railroad bridge engineering firm that understood not just structural engineering, but the realities of construction on an active railroad. After being approached by several of their railroad clients, E80 Plus Constructors, LLC helped establish SW Bridge Engineers, LLC drawing from the E80's excellent pool of project engineering talent. As SW Bridge Engineers, LLC grows it continues to remain close to its construction roots as an independent division of E80 Plus Holdings, LLC.
As with all new ventures there comes a time to give a name to the pursuit. We considered the market and felt that our sole focus on railroad structures allows us to better understand what it takes to design a railroad structure. This consideration prompted the response, "You won't see us designing convenience stores and highway bridges, Steel Wheels only for us!"
Steel Wheels is the basis for our name and it is the basis for what we do – railroad bridges.
SW is Steel Wheels, Call 608-846-1055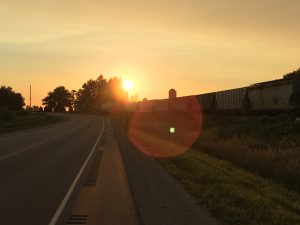 Railroad Bridge Inspection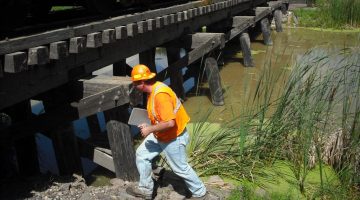 FRA 237 Compliance, Periodic, Detailed, and Emergency Bridge Inspections
The Bridge Safety Standards in place by the FRA means that all railroads need to develop a Bridge Management Program. SW Bridge Engineers, LLC has worked with several railroads to develop simple and workable Bridge Management Programs that are well suited for railroads with a smaller number of bridges. Our approach to each Bridge Management Program will be tailored to the railroad yet contain the necessary elements called for in the rule. The resulting plan will be simple and effective.
SW Bridge Engineers, LLC is responsible for inspecting bridges on several railroads throughout the US. Our goal with every inspection is to provide a thorough inspection of the structures, an accurate assessment of their condition, and to relay our findings to the client in clear and concise manner. In most cases the inspector is also a structural engineer that can start evaluating the means to address defects found in a bridge while still at the bridge site. Our inspectors have the experience to recognize a serious defect that represents a major concern from a minor condition that will have little impact on the safety of the bridge.
Our standard reports include a prioritized list of recommendations that allow the client to focus in on the most critical defects. We have crafted our inspection methods and reports to best meet the regulations contained in FRA Part 237 so that our inspections can satisfy the annual inspection requirements of that rule. Whether it is one bridge or one hundred bridges, we work to provide you with a simple, yet comprehensive, inspection that will allow the client to best manage their bridges.
Railroad Bridge Rating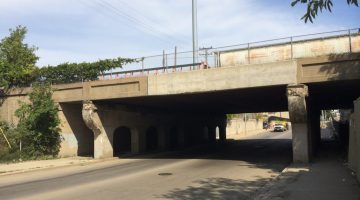 Capacity analysis for FRA Part 237 compliance.
A key component of FRA Part 237 regarding bridge safety is knowing the structure capacity of every bridge. And beyond the requirements of this rule every railroad is focused on safety and knowing the capacity of a railroad's bridge is a key part of maintaining safe operations. Unfortunately, many smaller railroads in the US are faced with a lack of records of their bridges and have been given little or no capacity data from their predecessor roads.
At SW Bridge Engineers, LLC we have the capabilities to perform structural ratings on a wide variety of railroad structures and we are undaunted by the reality that many structures lack even the most basic plans. Our engineers can field measure a structure to gather the necessary information to determine both the as-built and current structural capacity of a bridge. The capacity rating can be presented in a variety of formats, and most importantly we can express our structural capacity ratings in terms, such as car type and weight, that can be understood by operations personnel.
Railroad Bridge Design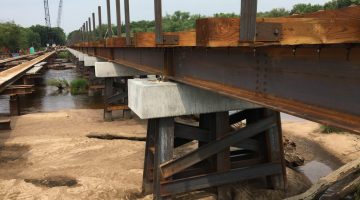 Design of railroad bridge repairs and replacements.
Repair Design
A substantial portion of the nation's railroad bridge infrastructure has served for nearly a century, and in many cases can continue to serve for several more decades with the proper care and maintenance. The staff at SW Bridge Engineers, LLC have the hands-on experience with railroad bridge repair needed to design the repairs needed to keep a bridge in service. And when we say hands on experience, we mean busting rivets, chipping concrete, and impacting bolts. Experience that allows our engineers to understand how to design a railroad bridge repair that can be effectively constructed without delaying trains. Whether it is a steel, concrete, or timber railroad structure we can develop an effective repair to address deterioration, damage, or insufficient capacity
Replacement Design
Sometimes it is not enough to simply repair a railroad bridge. Whether it is age, lack of capacity, catastrophic damage, or changes in structural needs; there comes a time when the best approach is to rebuild a railroad bridge rather than repair it. SW Bridge Engineers, LLC has designed several replacement bridges of various types and sizes for many different railroads. We can take a railroad bridge design project from concept to construction, including alternatives analysis, permitting, geotechnical analysis, H&H analysis, structural design, detailing plans, drafting contract documents, bidding, and construction evaluation. As always, our background in construction allows us to find practical, buildable, solutions for difficult problems.